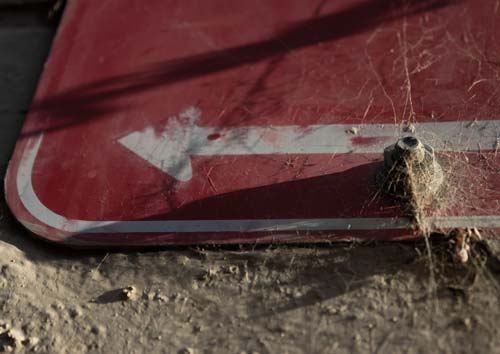 Title: Caught in the spiders web
Location: Sydney, Australia
Forgotten signs in forgotten alleyways in Darlinghurst, Sydney. A spider has made it's home here – or it's been so long that the web has crystallised and is a mere memory, a shadow, of the former occupant.
Printed on C-Type Matt
---
What print sizes are available? What about borders?

Currently available are metric print sizes, which run:

A5 – 210x148mm
A4 – 297x210mm
A3 – 420x297mm
A2 – 594x420mm
A1 – 841-594mm

Each print comes with a 5% border, so for each print size, that will be different. For example, the border for the A5 print is 10.5×7.5mm or slightly less than half an inch by a quarter of an inch.

US 8x10 prints are available, they will be processed in the next 4-6 weeks for sale.
---
What kind of paper are your photographs printed on?

All prints are printed on archival quality paper using C-Type or Giclee printing. Favoured papers include Fuji Matt, Epson Semi-Gloss and Hahnemühle Pearl. Details of the paper type will be included for each print.
---
Can I buy the print from you framed?

At the moment, no, though the printer I work with (The Print Space) is planning on releasing this in 2022.
---
How long will my photographic print last?

Both C-Type and Giclee papers are archival quality and made to last. When displayed in average daylight conditions properly (framed, under glass, with pH neutral mounting paper), C-Type has a lifespan of about 40 years, Giclee about 80. In dark storage in an archival box, C-Type sits at about 80 years, Giclee, about 200. Of course, this is in ideal conditions. Factors that could affect your photographic lifepan include:

Exposure to high heat sources
Exposure to bright light sources
Exposure to moisture through humidity
Atmospheric pollutants
Storage conditions
You May Also Like