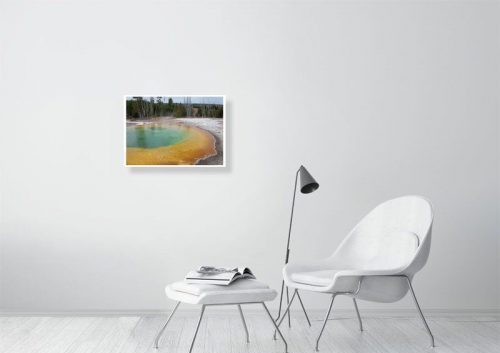 Title: Calm
Location: Yellowstone, United States
The calmest pools in Yellowstone are the most deceptive, because who knows what lies beneath? The rings of burnished copper, gold and turquoise hide their secrets well in the stark and sulfurous landscape that is this glorious national park.
Printed on C-Type Matt
---
What print sizes are available? What about borders?

Currently available are metric print sizes, which run:

A5 – 210x148mm
A4 – 297x210mm
A3 – 420x297mm
A2 – 594x420mm
A1 – 841-594mm

Each print comes with a 5% border, so for each print size, that will be different. For example, the border for the A5 print is 10.5×7.5mm or slightly less than half an inch by a quarter of an inch.

US 8x10 prints are available, they will be processed in the next 4-6 weeks for sale.
---
What kind of paper are your photographs printed on?

All prints are printed on archival quality paper using C-Type or Giclee printing. Favoured papers include Fuji Matt, Epson Semi-Gloss and Hahnemühle Pearl. Details of the paper type will be included for each print.
---
Can I buy the print from you framed?

At the moment, no, though the printer I work with (The Print Space) is planning on releasing this in 2022.
---
How long will my photographic print last?

Both C-Type and Giclee papers are archival quality and made to last. When displayed in average daylight conditions properly (framed, under glass, with pH neutral mounting paper), C-Type has a lifespan of about 40 years, Giclee about 80. In dark storage in an archival box, C-Type sits at about 80 years, Giclee, about 200. Of course, this is in ideal conditions. Factors that could affect your photographic lifepan include:

Exposure to high heat sources
Exposure to bright light sources
Exposure to moisture through humidity
Atmospheric pollutants
Storage conditions
You may also like